When using the antas Outtasking model, the customer hands over an existing task to antas.
Task handling remains the same as done by the customer before, unless a new task is being defined. The customer remains in control, since takeover concerning date / content and the handover of results are being defined very clearly.
From "takeover" to "handover of results" of the task responsibility stays with antas. Several subtasks can be bundled into one task as well.
Essentials I
An existing task is taken over
Control remains with the customer
Responsibility for the task is taken over by antas
Compared to outsourcing contracts comprehensive SLAs are not necessary.
The contracts are more like service agreements.
Charging and costs are very clear and transparent. For the takeover phase a specific time is defined according to efforts. Joining a project prior to outtasking creates additional security and minimises efforts.
antas obviously is also available for a possible migration of an application into a new environment. This holds true for all business services that are offered.
Essentials II
No comprehensive SLAs
Simple task control
Short introduction period
Migration guaranteed
Solution across several fields of knowledge
The following reasons generally are critical for a customer when deciding if the Outtasking model is the right solution:
Cost Savings
As a rule, in development and maintenance projects as well projects in the areas Operation/Administration/Networks there is a great deal of cost variance for personnel during the project year.
Big companies or service providers often are limited in their flexibility concerning overtime, holidays and sickness days, education times or working in additional projects.
Ressources are assigned according to peaks. That means that the maximum number of ressources are provided to cover peak demands for all months:
Planned over capacity across the year often amounts to 130% and more than 100% on average.
antas as a medium sized company therefore offers a flexible ressource and charging model:
100% capacity always is the basis!
Employees always are used according to need. Basis of the required capacity always is 100% that has been jointly defined for the year. For the month it's always 75% at least. This results in high savings without capacity risk.
Provision and calculation of use of ressources up to 130% is being guaranteed. Consequently, savings of up to 30% are possible according to this model.
Staffing of new projects with internal employees and handover of the former tasks to an external partner
Organisational changes
Loss of ressources
End-of-Life status of solutions and handover of End-of-Life tasks to an external partner
New systems require more ressources if they are planned and implemented. Old systems are running parallel and have to be either developed and/or maintained and run and supported. No internal employees might be available for that task.
The reason is that internal employees are either planned for running the old systems (e.g. development Mainframe Cobol, Java, DB2 – antas has a young team of fully employed personnel for these topics) or not available anymore because of organisational changes. Some even  might have moved on to other areas. Oftentimes externals are then used for new developments or running existing systems.
As a consequence there is frustration and a big dependency:  For new systems customers depend on service providers, employees are unhappy and might not even be available anymore.

The Alternative: antas takes over tasks with a short initiation period!
antas recommends its flexible ressource model as described under cost savings and takes over the task. Employee motivation remains high and independence is maintained.
For task handover an initiation period according to efforts is agreed. Working together in projects beforehand creates additional security and minimises efforts and supplies missing ressources even earlier.
Existing external ressources and internal employees, if needed, can be integrated into the Outtasking model, as well as transferred or responsibility remains with the customer.
The antas flexible ressource model applies here as well. 100% capacity requirement is the basis again. The takeover period according to effort can be reduced by employee takeover if possible.
Provider and/or externals bundling for a task
A lot of small or single providers are working in a project, whereas there are hardly any internal employees. A harmonisation of contracts is necessary, because a high number of separate contracts slows down the purchasing process. Sometimes contradicting contracts even disturb the project flow. Project personnel substitution isn't clearly assigned to defined departments.
Market price monitoring and/or substitution potentials are not being identified or not even started. Projekt management therefore requires more and more effort.
For these topics the antas flexible ressource model provides a possible solution as well. Apart from cost savings an initiation period is defined according to effort before the project starts. This period can be reduced by employee takeover. Ressource substitution is discussed or will be negotiated, taking know- how availability in the market and sensible handling of key ressources or rare skills into account. As a result, project management is freed from administrative tasks.
antas flexible Outtasking Model Example
Assumed Basis Figures
Jan
Feb
Mar
Apr
May
Jun
Jul
Aug
Sep
Oct
Nov
Dec
Example
Utilisation % Real
125
100
75
75
130
75
70
115
130
110
120
75
Year Average % Contract Basis
100
100
100
100
100
100
100
100
100
100
100
100
Number of customer employees
13
13
13
13
13
13
13
13
13
13
13
13
Number of antas employees
10
10
10
10
10
10
10
10
10
10
10
10
Cost Customer Employees %
130
130
130
130
130
130
130
130
130
130
130
130
Cost antas Employees %
125
100
75
75
130
75
75
115
130
110
120
75
Savings %
5
30
55
55
0
55
55
15
0
20
10
55
antas flexible Outtasking Model Example Utilisation
antas Flexible Outtasking Model Example Utilisation/Savings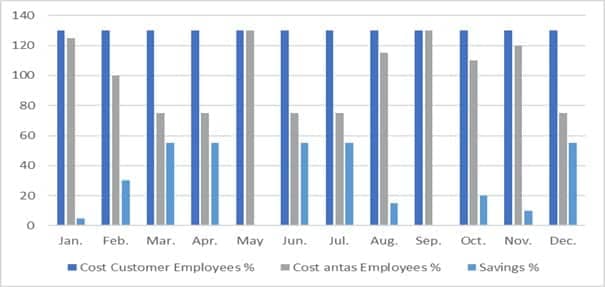 Outtasking: Next Steps
Joint discussion about potentials for outtasking and the targets of the respective task definitions, the process definition of the task incl. cost – value ratio
Definition of Project Leaders on customer and antas side
Time Schedule, definition takeover period, check availability…
Contract definition and offer

We are looking forward to a shared, successful Outtasking!